International St. Patrick's Day Sitsit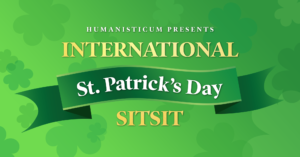 Hey international student!
You've probably heard of sitsit? And you've surely heard of St. Patrick's Day? Normally we don't celebrate St. Patrick's Day here in Finland, but this year it's a different story. See, Humanisticum is organizing a St. Patrick's Day themed sitsit on Tuesday March 17th!
To refresh your memory, sitsit is an academic dinner party with a three course meal, beverages and a lot of singing. Since this sitsit has a St. Patrick's Day theme, it means there will be an awful lot of green everywhere – and maybe a few leprachauns too!
The celebration will start at 18.30 with cocktails and we'll move to the tables at 19.00 on dot. Please be on time! The price is 13 € and includes three courses and drinks during sitsit. However, you may want to take some cash for the after party, which will be held right after at Humanistiklusteri. You can gladly dress according to the theme!
Sign up for the sitsit:
https://docs.google.com/forms/d/1orGsZV6x7rYZeJjJ4E9P0qjnWHgFEs74cNNICusCiXQ/viewform?edit_requested=true
Welcome!
WHAT: International St. Patrick's Day Sitsit
WHERE: Humanistiklusteri, The New Student House, 5th floor, Mannerheimintie 5A
WHEN: 17.3., 18.30 onwards
WHAT DOES IT COST: 13 €
WHY: Because sitsit is something you WANT to experience!
Unfortunately Humanistiklusteri is not wheelchair accessible. Before sitsit please read the principles of safe space at Humanistiklusteri:
http://www.humanisticum.fi/wp-content/uploads/2018/12/The-Principles-of-Safe-Space-at-Humanistiklusteri.pdf
Link to the facebook-event: https://www.facebook.com/events/594520187770823/